Internship
December 31, 2023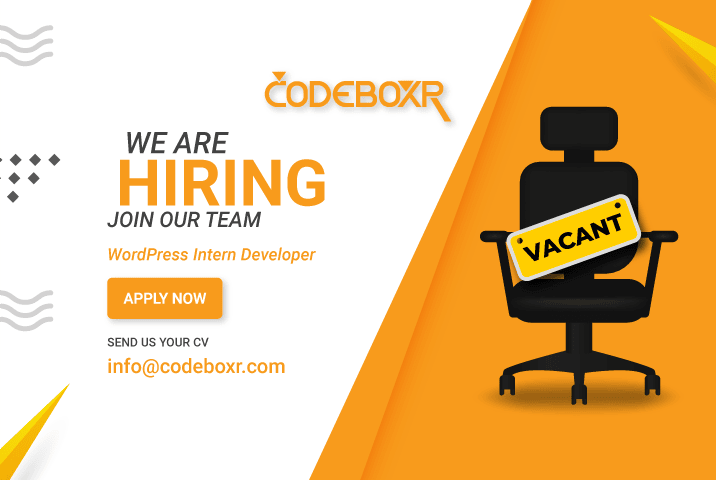 Are you passionate about web development and eager to gain hands-on experience with one of the most popular content management systems? Look no further! We are currently seeking a motivated and talented WordPress Intern Developer to join our dynamic team at Codeboxr. This internship opportunity not only offers a valuable learning experience and exposure to real-world projects but also presents a chance for you to grow your skills in a supportive environment. Plus, there is an exciting possibility of joining our team as a full-time position after the internship period.
Attention: If you lack knowledge of PHP and basic JS, please refrain from applying. Rest assured, we are committed to assisting you in learning WordPress, including website development and building plugins and themes. Our goal is to empower you with WordPress skills and pave the way for a potential full-time position in the future.
About Codeboxr: If you visit our website (codeboxr.com) you will get everything to know about us. In short, our development stack tags are #laravel #wordpress #vuejs #nuxtjs #flutter . We have multiple WordPress plugins in WordPress plugin dir. We have few themes in Themeforest and Themeboxr
Requirements
To be considered for this internship, the following qualifications and skills are required:
No previous job experience required.
Experience with personal or educational projects using php+mysql.
Familiarity with front-end frameworks (e.g., Bootstrap, Foundation) and version control (e.g., Git).
Knowledge of basic graphic design tools like Figma, Photoshop, etc.
Familiarity with code editors like VSCode, PHPStorm, etc.
Proficiency in PHP, JS, jQuery, CSS, and HTML.
A degree in computer science or a related field would be a plus.
Familiarity with installing xampp in Windows and experience using WordPress.

Moreover, having completed any online course related to web development or WordPress will be considered a plus.
Compensation
This is a paid internship position. The exact compensation details will be provided during the interview stage. The compensation can range from 0 to +15k BDT.
Internship Duration
The internship is for a duration of 6 months. However, the specific duration can be discussed during the interview process.
Office Time:
Fri, Sat (9am-6pm)
Location:
Our office is located at Apartment 6H, Dilara Tower Tower, 77 Bir Uttam CR Dutta Road, Dhaka 1205, Bangladesh, near Hatirpool Eastern plaza.
Other benefits:
In addition to a valuable learning experience, we also offer free lunch, tea, and coffee to keep you fueled and focused.
How to Apply
If you are excited about the prospect of becoming a WordPress Intern Developer and contributing to our innovative projects, we would love to hear from you! To apply, please submit your updated resume and a well-crafted cover letter outlining your interest in the position and relevant experiences. Additionally, feel free to include a link to your portfolio if applicable. Take the time to carefully read and understand this job post, as well as explore our website for more insights into our work.
When crafting your resume, remember to focus on the most relevant information, such as your last education. For helpful tips on writing a concise and impactful resume, you can refer to this article fat free resume . Avoid unnecessary details like your full address and family background.
If you have any suggestions or questions, please feel free to email us with the same subject. You can also explore our other jobs opportunities to see if there are other roles that interest you.
You must sign in to apply for this position.